Single lane for repairs on Mohaka River Bridge
4:20 PM Friday Nov 14, 2014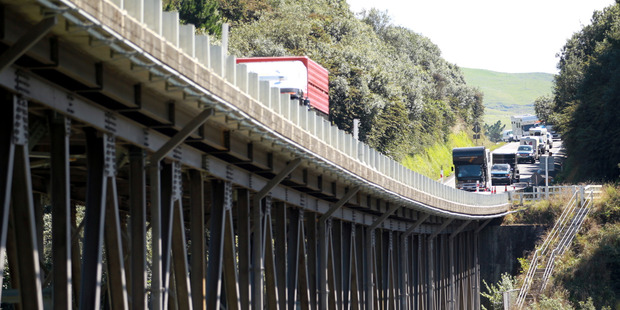 The Mohaka River Bridge on SH5 between Napier and Taupo. Photo / P0aul Taylor
An extensive maintenance and repair project on the Mohaka River Bridge on SH5 between Napier and Taupo is under way and will see a single lane and speed restrictions in place until the end of next month.
A speed limit of 30km/h has been imposed and will be in place continuously until then.
Temporary traffic lights have been set up as a single lane across the centre of the bridge has been put in place.
Heavy transport operators have been advised that the gross permitted weight for a single vehicle is 60 tonnes, with drivers requested to ensure there is a clear separation of at least 40m between crossing trucks.
Delays of up to five minutes can be expected.
Minor delays can also be expected on SH2 between Tutira and Morere where maintenance work is taking place at several sites on that stretch.
On SH2 south between Napier and Dannevirke work is also taking place at spots between Pakipaki and Waipawa, again with minor delays on the cards.
In Napier, on the stretch of SH2 at the Hyderabad Rd and Prebensen Dr roundabout, a new gas pipe is being laid near the Corunna Bay Rd southern intersection.
There will be single laning at times and delays can be expected, with contractors urging motorists to drive with caution and patience.
The work is expected to be wrapped up early next month.
http://www.nzherald.co.nz/hawkes-bay-today/news/article.cfm?c_id=1503462&objectid=11358571